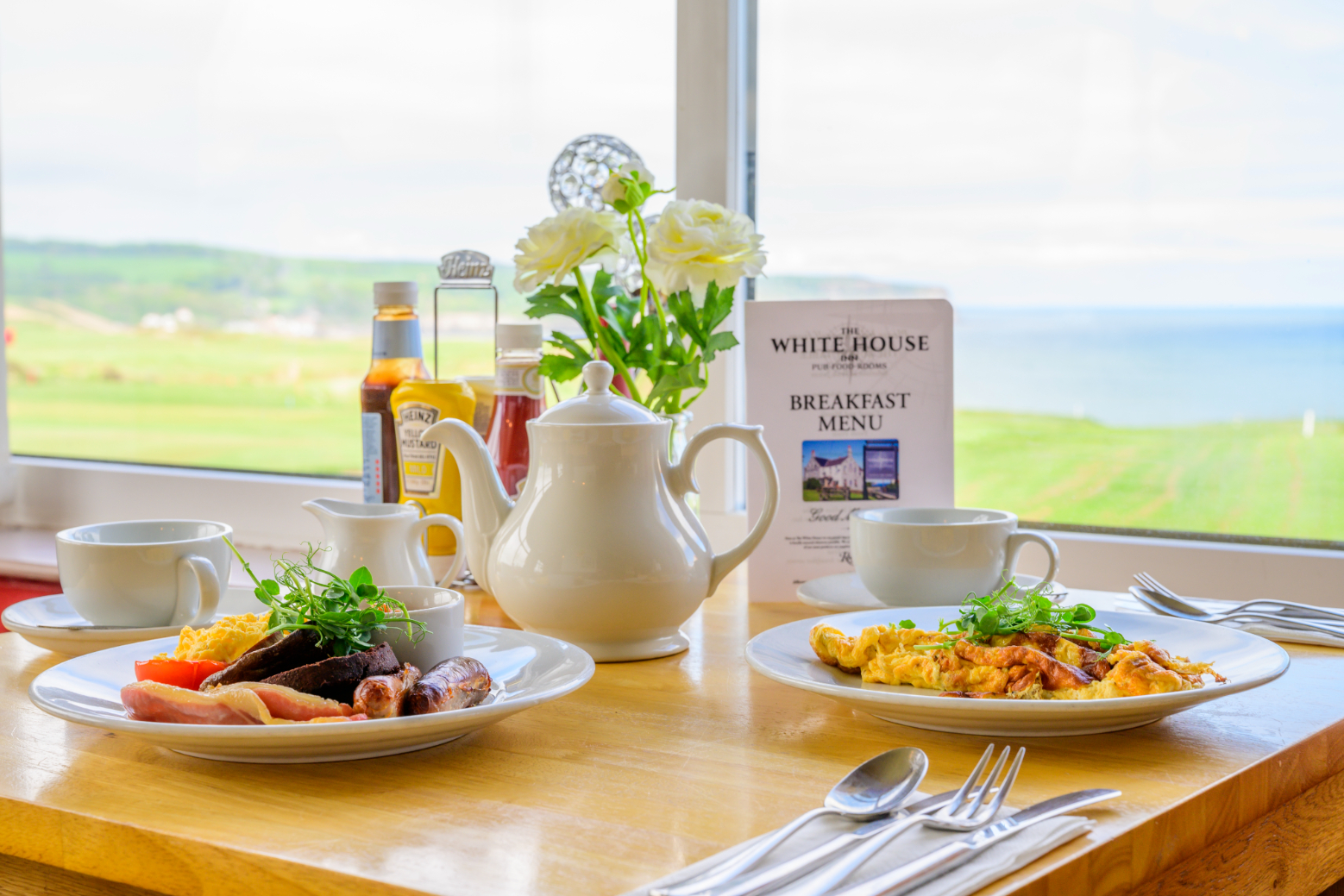 breakfast AT the white house inn
A Whitby breakfast
Non-resident guests are most welcome to book and enjoy a 'White House' breakfast served in our sea view Restaurant.  Open daily between 8.00am – 9.30am.  Start your day off in true 'Yorkshire' style….. Good morning Whitby!
Sample Menu – £10.00 per person for non-residential guests
The Buffet Table
Fruit Juices:  Orange, Apple and Cranberry                   
Cereals: A selection of favourite Cereals and Muesli
Fruits: A selection of fresh Fruits
Dairy Produce: A selection of fresh Fruit Yoghurt
Bakery: A selection of Toast and Preserves
All diners can enjoy our Buffet Table and also choose from one of the following freshly cooked hot dishes.
Traditional Yorkshire Breakfast
Choose from the following:
Your choice of Free Range Fried, Poached or Scrambled Egg
Grilled local Pork Sausage
Grilled local Bacon
Hash Brown
Grilled Tomato
Grilled Mushrooms
Black Pudding
Baked Beans
Vegetarian Yorkshire Breakfast
Free Range Poached Egg
Grilled Mushrooms
Grilled Tomato
Hash Brown
Baked Beans
Coastal Breakfast
Enjoy delicious locally sourced Grilled Whitby Kippers served with Free Range Poached Egg, Lemon and Butter
Omelettes
Cooked to order, our chef would be delighted to prepare a fresh Omelette for you with the following choice of filing:
Cheddar Cheese
Bacon
Tomato
Mushroom
If you have a food allergy or intolerance, please inform us and we will be pleased to assist you.
If you would like to join us for a hearty White House 'Whitby' Breakfast to set you up for the a day then please call 
us on 01947 600469 to reserve your table or email [email protected].
Booking is always recommended to avoid disappointment.
Book an overnight stay with us
After a day exploring some of the finest scenery the UK has to offer, you will be ready to sink down into the comfiest of beds in The White House Inn's well-appointed, en-suite bedrooms.
JOIN US FOR BREAKFAST, LUNCH OR DINNER
For any further information, please contact us on: